Ratsmith Changelog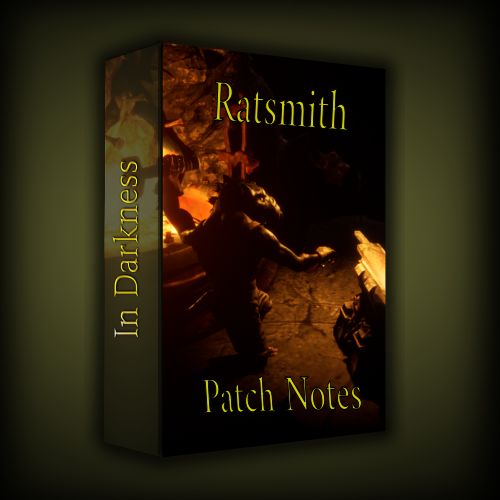 Level
Added new 2 new Npcs to the village.
New shop in the village: Ratsmith where warriors can purchase items able to enhance their weapons and armors.
The quest rewards were increased.
New welcome dialogues added for the guards in the village when starting new game.
Items
New item weapons.
Weapons are not part of armor sets, and vice versa.
Now warrior classes are not bound by armors, i.e., any warrior class now can equip any weapon regardless of the armor, and vice versa.
Now warriors can carry any weapon in the inventory without losing it.
New items available in the new Ratsmith shop.
Item prices have been raised or decreased according to their performance.
Bullets are no longer infinite, different types of gunpowder flasks must be purchased in the village or acquired by enemies drops in order to reload the firearms.
Booster items have been improved.
Warriors now starts a dual weapon that cannot be loosed, when creating a new game.
Now changing armors won't neutralize drink boosters.
Boosters will have effect only if glowing skin is active.
Weapon potions enhancement will be neutralized if weapons are put in the inventory.
Enemies now drop more items including boosters.
UI
Items on shops now appear in random order.
Added new sound class Interface option.
Added new Interface sounds.
improved items information displayed on the inventory.
New inventory and shop item icons.
improved general character movement and interactions.
Improved dialogues interaction with gamepad, now dialogues are more fluid.
Controller
New input key added, to change weapons, it will place the equipped weapon back into the inventory.
Fix mouse cursor focus when multiple windows overlays are open / close.
Improved gamepad or keyboard / mouse detection
Also some keys were rebound:
The Right Trigger uses items.
The Select button extracts gemstones from items.
The X button is now the primary ability.
The Right Shoulder button now change weapons.
Of course you can bind the keys as you wish, but this binding is recommended, changes won't affect you profile, if you'd like to use the new default rebound just refresh the mentioned inputs

Visual and sound FX
Warrior has a new tornado fx.
Assassin has 2 new tornado fx.
Hunters shots have new effect when impacting enemies.
If you have any suggestion about update, a game feature or a bug to report do not hesitate to leave your comment, I'll be attentive.

Do not forget to write your review, this will support my game, and will help improve your gameplay experience.

Thank you very much and happy upgrading warriors!